Posted January 1st, 2007 by Philip Schwartz
Categories:
Tribute
"I don't care what your friends say about you, I like you!" — Hal Kanter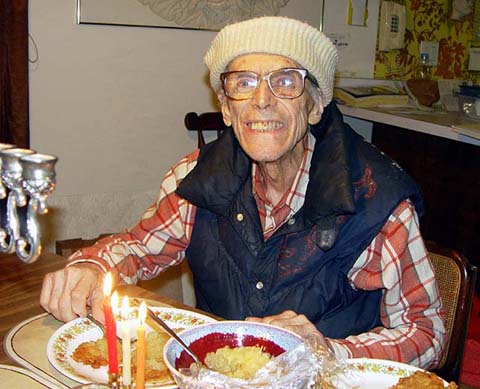 Harold ("Hal") Kanter died December 31, 2006 at Haven Hospice E.T. York Care Center, Gainesville, FL. He was 88.
Funeral Services will be held on Monday January 1, 2007 at 11:00 am at Williams-Thomas Funeral Home (Downtown 404 N. Main Street) to be followed by interment at B'nai Israel cemetery.
Mr. Kanter grew up in upstate New York and moved to Gainesville 23 years ago from the Syracuse area. He was the son of Samuel and Janette Kanter. He was also the grandson of an Orthodox rabbi who led a pioneer synagogue in Portland, Oregon in 1870. Hal was an only child and a lifelong bachelor. He leaves behind cousins and hundreds of surrogate nephews, nieces, brothers, sisters, and friends for whom he was a beloved member of the family. He operated a variety of family businesses with his parents. Devotion, loyalty, honor, charity, faith, duty, and filial obligation defined his essence. He delivered "Meals on Wheels" for 14 years. He loved to dance, roller skate, exercise on his trampoline, and walk on his Stair Master. He was also a long-time board member of the Forest of the Unicorn homeowner's association and was dedicated to his neighbors on Birnam Woods Way where he was lovingly known as "the mayor". Hal was devoted to the Jewish community and lived a life filled with deeds of loving kindness. He was a member of the synagogue's ritual committee, daily minyan group, and participated in every life cycle event.
Hal was committed to "goodness, life and peace" and each conversation with him left the listener optimistic about their own life and the human condition. He was one of a small group of special souls who walk the earth to remind us that a life in service of our fellow man is a human being's highest calling. In lieu of flowers, contributions should be sent to Cong. B'nai Israel, 3830 NW 16th Blvd, Gainesville, Florida  32605
Please leave your recollections about Hal and any thoughts you'd like to share.